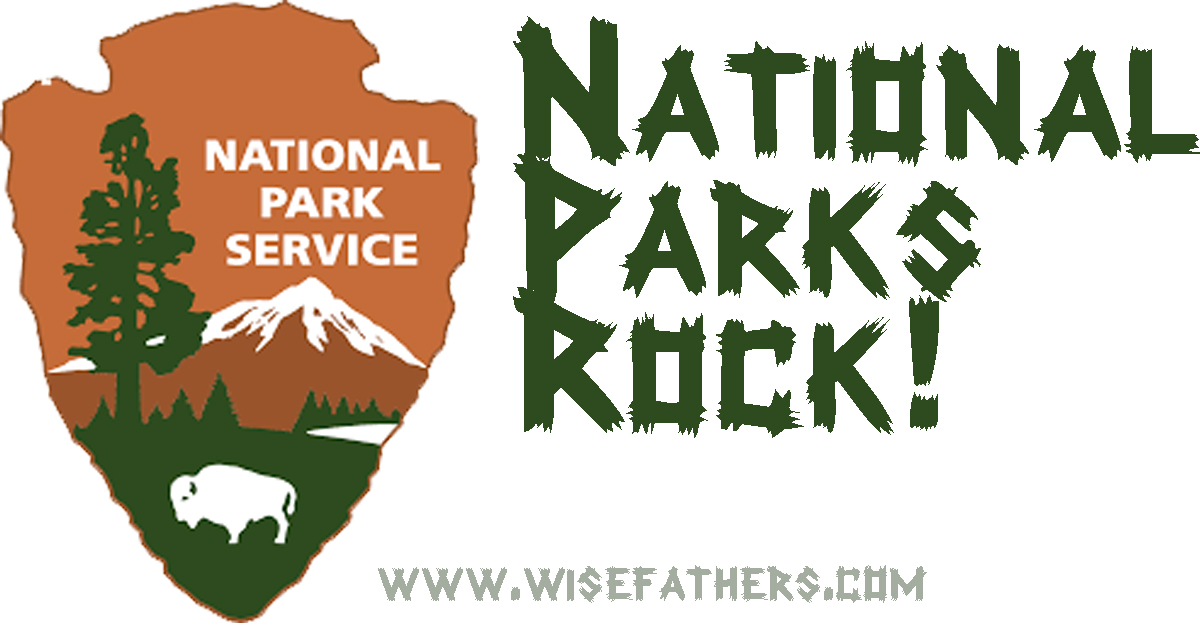 National Parks ROCK!
What do you and your family like to do? There's a National Park for that! Your specific answer really doesn't matter because there are hundreds of national parks for every possible interest, and they each have special events that cater to even more special interests.
I grew up going to national parks and historical sites of all kinds. Part of that was because my parents like history, part was because they were close, and part was (I'm sure) because they are affordable. I am a big fan of the US National Park Service and I make no apologies for it. NPS is a big organization and there are a lot of different kinds of parks ("units") within it, each with its own special focus. If you want to go fishing or hiking, a "national preserve" or "national park" will almost certainly be a better choice than a "national battlefield" or "national memorial." If you are looking for a place to spend a few hours, a "national memorial" or "national historic site" might be just the ticket.
It's even free for fourth graders and any family they bring with them.
A Destination Unto Itself
With literally hundreds of parks, most aren't well known and many are small, but NASA has taken pictures of quite a few. Visible from space, only the Smokey Mountains are more popular. The rest of the ten most popular national parks are Yosemite, Rocky Mountain, Zion, Yellowstone, Olympic, Acadia, Grand Teton, and Glacier.
Sometimes areas have a related series of parks such as Civil War Battlefields in the South, Revolutionary War Battlefields in the North, and Spanish Missions in the West. Some national parks include campgrounds and even hotels, but adding a stay in a nearby period B&B can be big fun. Like Walt Disney World, these places attract so many tourists, that the communities around them have developed ancillary fun activities. When you are planning your trip, take the time to explore these nearby communities. Just walking around a historic downtown and eating lunch in a pre-Revolutionary, Civil War, or Mission era tavern can be fun. There are some amazing experiences available there.
It is easy to schedule an entire vacation around some of these spectacular locales. It's easy to spend an entire week, or longer, enjoying the outdoors and the area around the parks. My favorite, by far, is the steam train from Williams, AZ to the Grand Canyon. Just say yes to this fun experience! (If you or yours really love trains, The Canyon Motel and RV Park converted train cars and a caboose to motel rooms.)
Every few years, our family likes to take a road trip. We go visit a person or place ten or twelve hours from home and stop wherever takes our fancy along the way. Some years, we plan most of our route in advance. Other years, we get brochures along the way and pull off when we see a road sign for somewhere interesting. A road trip like this is a great way to see some smaller national parks you wouldn't make a special trip to see. That's how we ended up seeing Abraham Lincoln's birthplace.
Prepping for Your Visit
What does your family love? Tying their passions in with parks you plan to visit makes it more exciting. If it's something totally new to your family, lots of people read related books and watch TV shows and movies to learn more before they arrive, but we are rarely that organized. When you pack for the trip, snacks, entertainment, movies, books to read, etc. can all be themed around your trip, and you can keep adding more bits as you hit the various gift shops. Just be careful not to overdo and make everyone sick of it before you even leave. Have fun with it!
No matter where we go, I like to check the local National Parks. Sometimes there are cool special events happening, like making old-fashioned apple cider at Harpers Ferry National Historic Park. Other times, a small site can provide a nice, short break in an otherwise hectic day, or a long car ride. Do you notice the brown signs on highways? Those are for parks and historic sites, including national parks. If you are on a long trip and need to stop for more than a potty break, keep an eye out for those signs. You may find an unexpected gem.
For that matter, have you visited the sites and parks near where you live? Lots of people never bother, thinking "we'll get around to it" and then they never bother. Take the time to check them out! Many are even free. Manassas Battlefield recently became free when they realized it cost approximately as much to collect and police admission as they made in "profit."
Special Events
Just thinking about trying to list a sample of the thousands of special events run by NPS every year makes my head hurt. At their simplest, park rangers give talks about the site and lead walks for visitors to learn more than signage can express. They also have special props for kids, in particular, to make history come alive.
Stargazing. Night hikes. Making cider, butter, and other by-gone skills. Cave tours. Battlefield tours. Campground programs. Story hours. Musical programs (dulcimer, anyone?). Geology. Try something new and have fun with it! You might even pick up a new hobby. You should definitely check out the Junior Ranger program. There are resources for before you go as well as activities at the actual park. At Gettysburg, the Eisenhower National Historic Site even has a Junior Secret Service Agent program that awards kids who finish a little "Junior Secret Service Agent" badge.
I should get a commission as often as I recommend these, but they are the best souvenir ever, hands down. I have had mine for nearly thirty years and it brings back happy memories. This is a sturdy pocket size paperback book you stamp with the date and location when you visit any National Park Service site. There are stickers for many sites, but I prefer putting the stickers in another book because there are too many to fit in the book. I prefer to focus on filling the book with stamps, but that's a personal preference. There is a newer Kids' Passport to Your National Parks Companion as well. Both include a US map with all the NPS sites.
It's brilliant because it's so simple and, unlike most souvenirs, they won't outgrow it, which is why each of my boys has his own. The parks are broken up by region and each region includes a map with a listing of all the sites in that region. It helps with travel planning.
If you want to visit a National Park but aren't sure where to start or know that you can't actually get away this year, NPS has a great selection of multimedia (web cams, photos, videos, and audio) to look at. It's a pretty great educational tool for the kids, too.