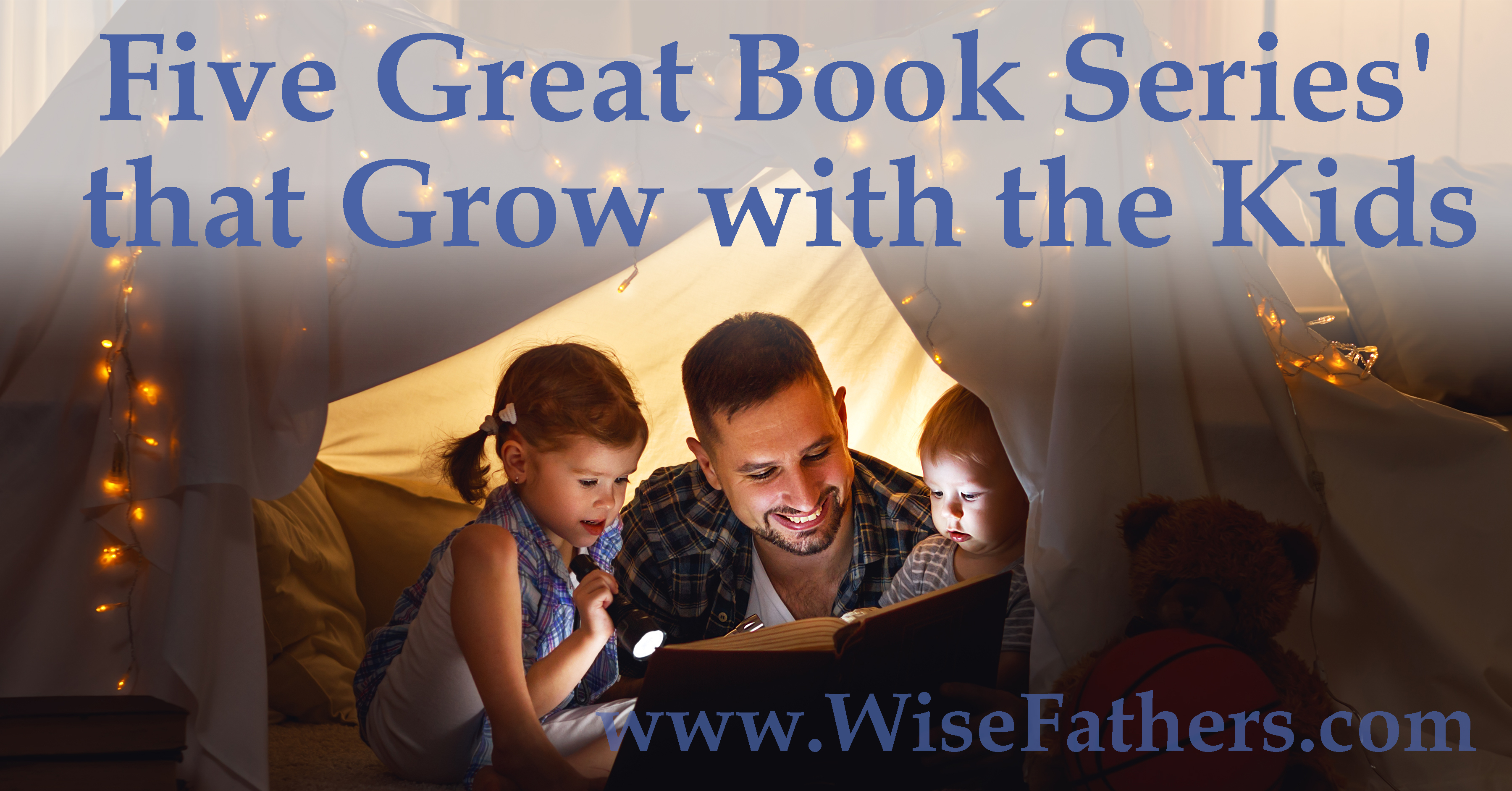 Five Great Book Series' that Grow with the Kids
Kids outgrow everything so fast! Books are no exception. We have chosen five great book series' that grow with the kids. Overall, they tend to be more reference or educational, but in a fun and interactive way. Think comic books, not textbooks. These books have lots of illustrations and are intended to make you think more than to provide answers.
All the books mentioned in this post are in the Wise Father's Store (Books=>Books That Grow).
Simon Basher started out with just one book: The Periodic Table: Elements with Style. It was so fantastic, there is now an entire series. In addition to the science topics he is known for, Basher Books also covers language arts, music, history, and more. Kids love it! We love them too. So much, in fact, that an entire post is being devoted to these books.
Each book is filled with one- and two-page layouts. It either has a drawing of the subject (such as the element gold) on one page and a short description on the facing page. Some combine these onto one page. The writing style is fun and accessible, and stealthily educational.
What is…? by Etan Boritzer
The first book Etan Boritzer wrote is What is God? but that doesn't mean the series is only good for religion families, and it emphatically doesn't mean it is only for people of one faith. It discusses (and explains) faith in very general terms, including historical examples.
This series is written not to tell children what to believe but rather to facilitate a discussion between parents and children.  They go through many abstract concepts including truth, money, beauty, humor, and more. These are tough concepts for kids, but Bortizer does a fantastic job of guiding the discussion with examples and questions kids can understand.
In one example that was a bit humorous for our family, Boritzer asked if it would be OK to take oranges from a neighbor's tree that has tons of oranges without asking. This was humorous because we had a neighbor with an orange tree with tons of oranges, and we did take oranges without asking – but that was because we had asked in the past and been told to please take whatever we wanted. There were so many they just ended up a mess he had to clean up in his yard. This is exactly what the book was written to do – facilitate conversations.
When your kids outgrow these, The Examined Life and Philosophy for Kids are great for bigger kids. Don't let the idea of philosophy scare you away from these books. If it helps, think of it as talking about right versus wrong and helping your kids understand the difference.
Buddha (graphic novel) by Osamu Tezuka
This is for slightly older kids because caste oppression and other difficult topics are included, but you may read them and simply skip those parts with younger kids. (The link in the header leads to more detailed reviews on Goodreads.)
Growing up, I don't know if I ever even heard the word Buddhist. I probably did, but…. I definitely didn't know much about Buddha or Buddhism. We started reading these together at night because my boys were interested in learning more about it. I wouldn't call this a graduate level course in the religion, it does a nice job of introducing kids to Buddha, his life, and the early years of Buddhism.
This is a series kids can go back to again and learn more, as they grow older, but younger kids can enjoy it as well since it is manga.
This is a comic book series focused on teaching American history. I read some of them with my kids when they were in early elementary school, but there are more every year. They are fun, easy reads that even a teen (or an adult) can read for a quick review of the subject. Boyd lives near Williamsburg, Jamestown, and other important early American settlements. It's fairly easy to see how this influences his writing when you read about his start in a local Virginia newspaper and his choice of a blue crab (instead of a more common eagle) as a mascot/narrator.
Of course there are volumes on obvious subjects like the Civil War, Revolutionary War, and Civil Rights Movement, but Boyd also discusses more specific issues such as American symbols, Africa (due to the slave trade), and the years leading up to the Revolutionary War and WWI. Clara Barton, Harriet Tubman, Susan B. Anthony and Helen Keller are discussed in the volume Wonder Women. That's the kind of approach that makes history fun, even for those who might not usually love it.
While this was written to engage kids, it was also written to specifically address the needs of teachers and homeschoolers, making it a great tool for those groups. 
Time for Learning, Among Others
We bought several books in the Time for Learning series at Costco and they have been great for years. Nope, they aren't books most kids will beg for, but this is one of the increasingly common educational series' that are actually fun to read. The Usborne series of art projects is another. You can do them when the kids are little and keep doing them as they (and their skills) grow. If I look at a book and it entertains me and I'm learning something, then I figure there's a good chance the kids will enjoy it for a long time, too. I have found quite a few great series' at both Costco and BJs over the years.