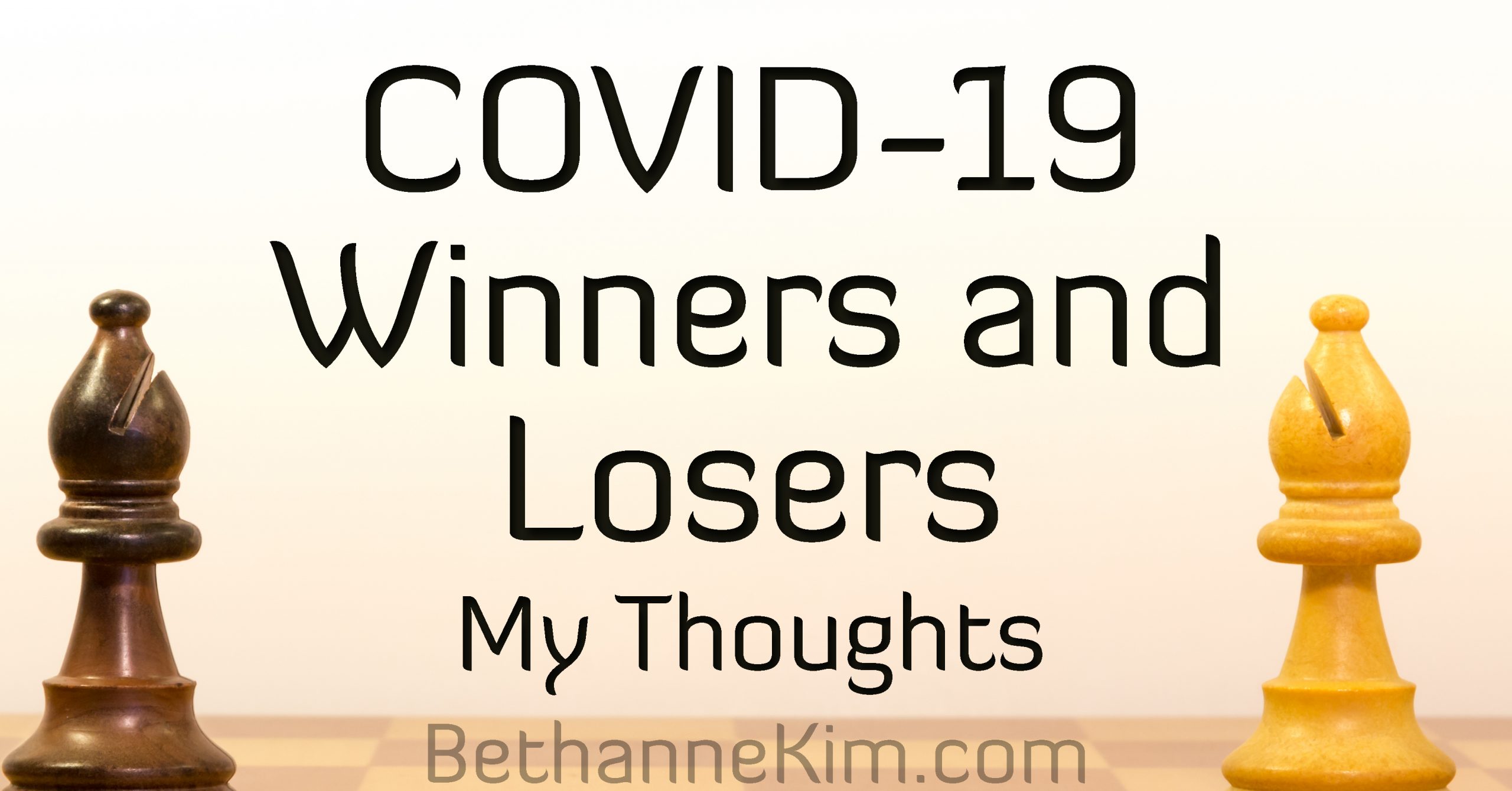 COVID-19 Winners and Losers: My Thoughts
I have been thinking about what kind of businesses and professions might come out of COVID-19 as winners and losers. Here are some thoughts. More than a few that are on the May list were either clear to everyone or to me in April, but since I didn't finish the list then, I'm leaving it as is.
As I have been doing this, I have found a lot more "winners" overall than "losers", but the "losers" include some giant industries, like airlines, while many of the "winners" are niche, like yeast manufacturers and bike companies.
January 12, 2021
Winners
Legging Manufacturers
Manufacturers of cardboard boxes, foam peanuts, and other packing supplies
Losers
Bra manufacturers who haven't dumped the underwires (they can make nursing bras with no underwires that provide plenty of support – there is NO excuse for continuing the torture devices known as underwire)
July 22, 2020
Winners
Zoom
Manufacturers of laptops and peripherals, including items like surge protectors and bags
Board and card game manufacturers
Fabric manufacturers
Sanitizing and UV products
Losers
Skype
Professional dog walkers
Anyone who needs a public meeting space
Youth and volunteer groups who can't find meeting spaces
The entire oil industry
The automotive industry, including mechanics, oil change businesses, etc.
Yearbook companies – it's hard to see a lot of yearbooks coming out from schools that are entirely on-line
General Changes
Apparently, people are drinking a lot of canned soda, leading to a shortage of aluminum cans. Presumably they are drinking less fountain soda since restaurant business has gone down. One can only hope that this leads to a return of glass bottles, and reuse of same by soda companies – as in yesteryear.
Schools are virtual, at least in part, for the foreseeable future. They will probably retain a much higher degree of virtual learning. Hopefully they will also have less standardized testing, as has been the case over the last six months or so.
Cats remain annoyed at having humans around all the time, while dogs remain ecstatic about it.
July 1, 2020
Winners
Dogs, who are happy to have their humans home
Homeschooling
Community colleges
Seed and gardening companies
Car insurance companies (no driving = no accidents)
Pool manufacturers and builders
Losers
Cats, who just want their humans to go away and leave them alone
Lower-tier private residential colleges
Airlines
Fast Fashion
General Changes
Eye make-up and glasses/contacts are more important while lipstick and blush have just disappeared, literally and figuratively, in importance.
I don't see "fast fashion" having a come-back soon as people don't need to stay "up to the minute" when they aren't leaving their homes.
This is the moment when athleisure wear can truly shine. If it can't make giant strides in the market now, it never will.
June 18, 2020
Winners
Bicycle manufacturers and sellers, including parts and helmets
Companies with at-home exercise apps
Drive-in movie theaters
Athleisurewear brands
Losers
Suit companies such as Men's Wearhouse
Gyms
Movie theaters – especially 80s/90s era ones; new ones have giant comfy seats, and older/retro ones are more spacious overall
June 5, 2020
Winners
Mascara and eye make-up
Vitamin companies, especially Vitamins C and D
Makers of small home medical devices, especially pulse oximeters and devices for conditions like asthma that have traditionally relied more on doctors checking them (diabetics already tend to have equipment on hand)
Blue tooth of all sorts, but especially headphones
Noise-blocking headphones
Smaller, "artisanal" flour companies such as King Arthur and White Lilly
Cookbook writers, bloggers, and imprints
Mask makers
Family organization apps and calendars
Boutique (small) hotels
Losers
Lipstick and (to a lesser extent) blush
Commercial buildings – it really can't be said enough: they are going to lose BIG
Cities, especially those with extremely expensive real estate
Hotels that rely on buffets to draw people in
May 17, 2020
Winners
JoAnn and other fabric companies
Brother, Singer, and other sewing machine companies
Craft stores in general
Yeast and flour manufacturers
Kitchen gadget makers
Cookbook writers and manufacturers
Carryout container manufacturers
Drive-in theaters
Online educators
Grocery stores
Charmin
Liquor stores
Losers
Restaurants, esp. buffet-style
Movie theaters
Suit makers
Retail, especially focused on clothing, even more so on business attire
Airlines and hotels
Car rental companies
Car Manufacturers
Jobs with more positions available:
Gathering items to fill grocery and other online orders for pick-up
Delivery
Tutoring
April 5, 2020
Winners:
Zoom and other online conference apps
Garage paper towel companies
Home delivery services
Educational apps and websites
Teleservices
Losers
Office building owners and managers
Dry cleaners
General Changes
More tele-doc visits
More tele-work