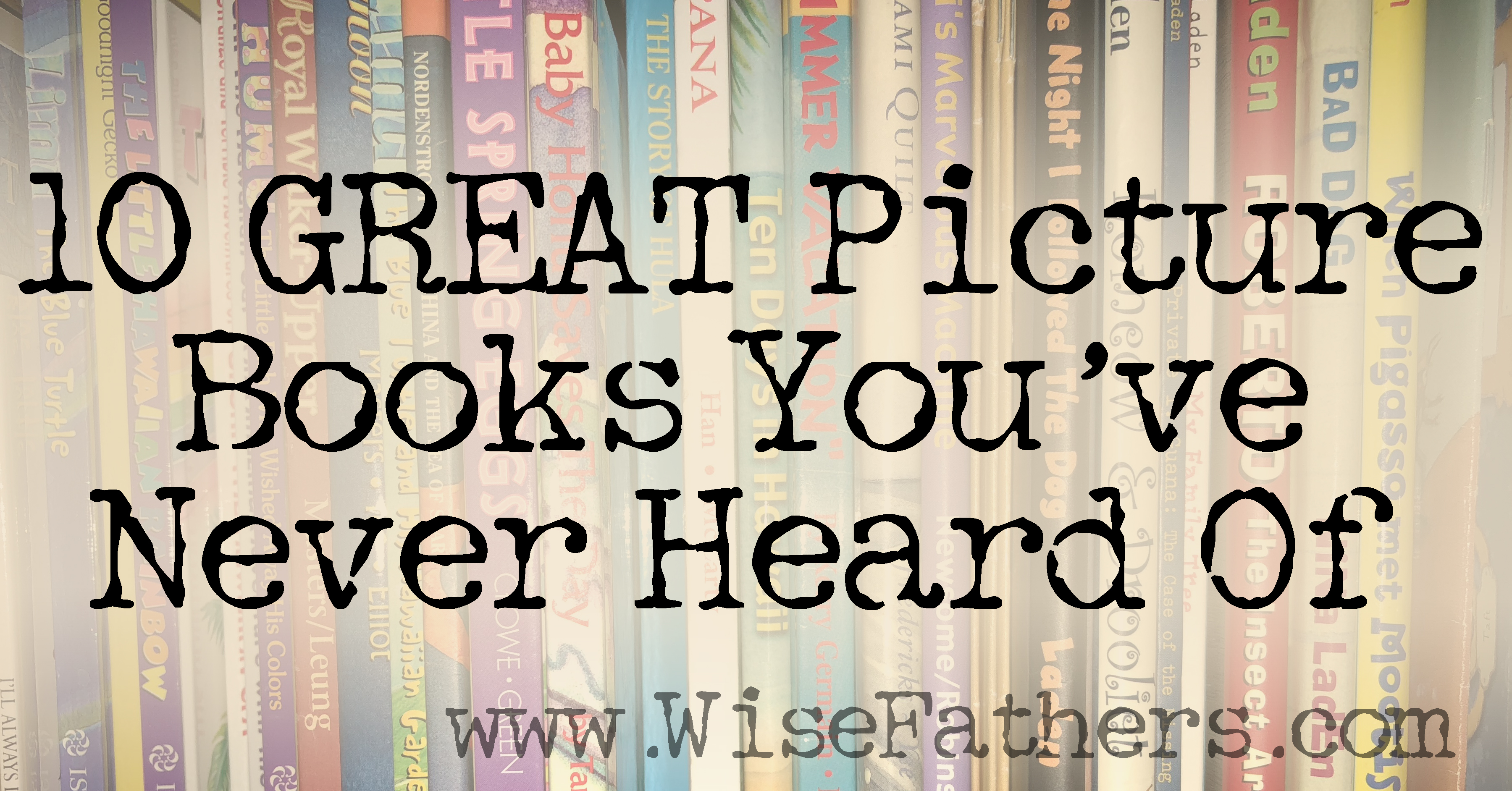 10 GREAT Picture Books You've Never Heard Of
There are mountains, heaps, and masses of amazing picture books available today. No matter what your tyke is interested in or worried about, there is a picture book (or five) about it. Our personal collection of picture books included a larger-than-average number of books focused on art and artists. I am really at a loss to explain why. I like beautiful things as much as the next person, but I've never loved art galleries or been able to identify any but the most famous artworks. We're talking Mona Lisa famous. The best explanation I can give is that our eldest found When Pigasso met Mootisse when he was two and that led us all to learn a bit more about famous artists.
These are ten of our favorites that you probably haven't seen.
The Art Book for Children
As I said, I don't know much about art. This book is "a perfect introduction to all those approaching art for the first time" according to the back cover and that pretty much sums it up. Thirty different artists are featured. Some paint highly detailed images. Others focus on conveying feelings or impressions. Their subject matter varies from people to nature, even to furniture (for a sculptor).
Every image is accompanied by thought-provoking questions like why do you think the Mona Lisa was important to da Vinci? They also have biographical information on the artist. Because of the sheer variety of art and artists, this is a great way to see what does (and does not) appeal to your family. Personally, I enjoy the work of Katsushika Hokusai, a Japanese artist, but our boys prefer the optical illusions of Bridget Riley.
This is the kind of book you can pick up and look at for a few minutes at a time, focusing on one artist, if you don't have much time, or spend a long time really closely examining the images if you have more time.
Crazy Hair by Neil Gaiman
He's generally better known for his sci-fi books, but Neil Gaiman writes fun (but twisted) books for kids. Crazy Hair doesn't have a point beyond being a fun, silly rhyming story. A man has crazy hair with an entire world inside it: birds, hot air balloons, wild animals, hunting expeditions – all kinds of craziness lives inside his crazy hair. A girl named Bonnie tries to tame it and ends up pulled inside where she lives happily ever after.
The End by David LaRochelle and Richard Egielski
This is a very silly book. It quite literally starts with "The End" and goes backward through the story. Each two-page spread has one illustration across both pages. The text on the second page mirrors the first page, but it ends with "because…" The first two-page spread has "And they all lived happily ever after" on the first page and "They lived happily ever after because…" on the second page. The second two-page spread has "the soggy knight fell in love with the clever princess" (finishing the sentence from the previous page) on the first page and "The knight fell in in love with the Princess because…" on the second page.  It continues in this vein until you get to the final two-page spread, which starts with "Once upon a time."
It is a short, silly, fun book.
George Washington's Breakfast by Jean Fritz
Mount Vernon, George Washington's home, has several programs for kids to earn pins and patches. The "reading pin" is earned by reading a biography of George Washington and this was one of the choices a few years ago. As a biography, George Washington's Breakfast doesn't really have a lot of information. What it does have is a great description of a kid who is determined to find out what, exactly, George Washington ate for breakfast and the lengths he went to before he found the answer. It takes a person who is monumental in our national history and makes him more relatable to kids.
It was originally written in 1969 and that is undoubtedly the reason it is no longer on their list. Most of the research is done using libraries and the card catalog, nothing online since the internet as we know it didn't exist. The founders of Google hadn't even been conceived yet! But…this is good for kids to learn about non-internet ways to research without sounding like a school lesson.
Goodbye Mousie by Robie Harris
If your little one has lost a pet or person they love, this sweet little book is perfect. Goodbye Mousie starts with a little boy waking up to find his pet mouse died overnight. There is no attempt to sugar-coat it and they specifically say dying is not like sleeping. He talks with his parents about what might have happened to Mousie, then they decide to bury him in the yard. It's a book for small children, but it does a wonderful job of discussing a difficult topic in a supportive, open way. In other words, readers can use it to open up a conversation with their child without totally freaking the kid out or depressing them.
I Ain't Gonna Paint No More! by Karen Beaumont
Our youngest loved this book. Our eldest still hates this book because I cannot help myself – I read it in a VERY fast sing-song voice because it's FUN! It's about a kid who keeps making messes painting pictures all over his house. When his mama hollers at him like she never did before, he promises that he "ain't gonna paint no more" but keeps having just one thing more to paint until he finally runs out of paint.
It's a rhyming book with "I ain't gonna paint no more" repeated on virtually every turn of the page. The text is simple, fun, and catchy. Even though our kids are several years past picture books, we all still remember that one.
Mr. Miyataki's Marvelous Machine by Tandy Newsome
Children's books cover some topics endlessly, such as not making others feel bad and feeling good about yourself. This covers the almost-never-discussed subject of how useless elderly loved ones can feel and how important it is to feel needed, even a little bit. I love the way Mr. Miyataki and his grandson, Sean, bond when a book of photos and clippings from Mr. Miyataki's childhood shows they share an interest in building and inventing.
The story itself is generally positive and happy. It starts with a Mr. Miyataki reaching mandatory retirement and visiting his (retired) friends, all of whom are having health problems. He and Sean decide to build a Marvelous Machine. They ask his friends to help. Everyone comes and marvels at the machine they build in the front yard. By the end, his friends have forgotten some of what ails them and are more active again.
It is far too easy for all of us to not make time for elderly relatives with all the rushing around in life and this is a gentle reminder of how important, and easy, including them really is.
Uncle Andy's by James Warhola
Uncle Andy's was written by Andy Warhol's nephew about "a faabbbulous visit" with his famous uncle in 1962. The whole family packs up to leave their country home (and literal junkyard) to visit their uncle and Grandma in New York City. Naturally, some of Andy Warhol's work is pictured, but this isn't a book about art. It's about family, and exploring and enjoying a place that is really, truly different from where you live.
Wabi Sabi by Mark Reibstein
Like The End, you know you are in for something different as soon as you open the cover. Instead of reading pages left to right, Wabi Sabi is read from top to bottom. Wabi Sabi isn't just the name of a book, it's a Japanese concept my family had never encountered before. In the book, it's the name of a cat and her owner is asked to explain her name. The story follows her attempts to understand it and includes quite a few poems.
Wabi-sabi is about appreciating the beauty in simple, humble items. Autumn leaves can be beautiful, but if you think about it, they aren't anything special. Something old and worn can be more beautiful than another item that is new and "perfect."
When Pigasso Met Mootise by Nina Laden
This book ended up causing issues in our house. We bought it for our eldest and he would get furious if his brother touched it. As a result, it's the only picture book we had to buy two of. We bought every other book she wrote and can recommend them as strongly, but this remained the absolute favorite. All the artwork related to Pigasso (a pig) is done in Picasso's style and the artwork for Mootisse (a cow) is in Matisse's style. The kids loved the bright colors. I loved the wordplay in the writing.
One day Pigasso got fed up and said, "I'm tired of this noisy pig pen."
At the same time Mootise declared, "I'm sick of this crowded cow town."
Naturally, the two start fighting and have to resolve their issues before the story ends. "The True Story of Picasso and Matisse" follows the resolution. As a person who knows almost nothing about art, I really appreciated that.